Best Buy has cut the price of the Withings Body+ Body Composition Wi-Fi Scale. Usually $99, a $49.01 saving sees this bestselling smart scale at a low price of only $49.99 - nearly half price. That's one of the best Cyber Monday deals we've seen yet.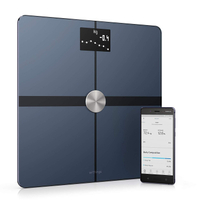 Withings Body+ Digital Scale: $49.99 (was $99) at Best Buy
Save 50% - Track weight, water percentage, body fat and more with this smart scale. With access for up to 8 family members and smart tracking for pregnancy and babies, this is a family-friendly smart scale at a record-low price. Buy from Best Buy now for only $49.99.

There's only so much you can learn from weight alone. The Withings Body+ accurately tracks not just weight but body fat, water percentage and muscle & bone mass.
It's compatible with fitness trackers such as the Apple watch and over 100 health and fitness apps such as Fitbit, and the smart scale synchronizes data from every weigh-in with your free Health Mate app. You can even interact with your Withings Body+ using your Amazon Alexa.
Great for the whole family, smart settings on the Withings Body+ mean you can have up to 8 users, with the scale automatically remembering you. This means that you can track pregnancy or young children with the Pregnancy Tracker and Baby Mode.
Withings' interactive scale can help you set goals, manage your lifestyle and even tell you the weather.
The Withings+ was slightly cheaper this Black Friday, with its lowest price ever at $49. But at only 99 cents more, this is still a great Cyber Monday deal. Grab it now at 50% off as this deal won't last for long.