SimpliSafe is a DIY home security brand that is among the best home security systems out there. Right now there's even more reason to check out its products thanks to this latest sale. Running through May 26, SimpliSafe's sale includes 20% off its home security systems and there's even a free camera included!
If you're looking for home security, the process is fairly simple. Take your pick from SimpliSafe's security sensors and the expert team will advise you on what's best for your home. Another handy thing about SimpliSafe is that you can easily install any of its systems at home without a professional (ideal if you're stuck in lockdown like many of us are).
We did check out SimpliSafe's website to see if home installations are available during the coronavirus pandemic, however, there wasn't any information available. If you need a professional to install your security system, contact SimpliSafe's customer service team first.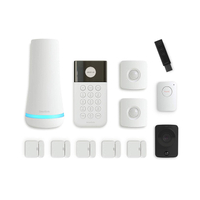 SimpliSafe home security sale - save 20% and get a free security camera
Protect your home for even less thanks to SimpliSafe's huge savings. There's 20% off any of its home security systems and you'll get a home security camera too, which is worth $99! Hurry though as this sale is only on through May 26.
Having said that, if you would prefer one of SimpliSafe's team to come out and fit your new system, that can be arranged too. Once installed, your new system will use sensors to guard the rooms inside your home as well as doorways and entrances.
You can upgrade your system to one of the monitoring packages. If your alarm is triggered, it will alert SimpliSafe's security centers who will, in turn, get the emergency services to come to your property.
Another added bonus with SimpliSafe is there are no long-term contracts and you don't need a phone line to set up the security system. Each system is fitted with a battery back up in case power falters and if you leave the house and forget to set the alarm, you can easily set it up on your smartphone.
The free camera included in SimpliSafe's deal is the Simplicam which has been designed to provide HD video and motion alerts. Worth $99, home security shoppers are getting plenty of bang for their buck with this deal. Read all about this fantastic home security product range in our SimpliSafe Home Security review.