Looking for an iRobot deal? It doesn't get better than this. The Roomba J5+ is getting its first ever price drop since it launched in August 2023, bringing it down to a record-low price of $499.99 in time for Black Friday.
I'm keeping a close watch on Black Friday Roomba deals, and this one has stood out for me by a mile. It has everything you could possibly want from a robot vacuum (& mop), and now it is discounted from $799.99 to $499.99 at iRobot. Resellers such as Amazon and Best Buy have jumped on the bandwagon to price match the brand, too, so you have a choice of where you spend your dollars.
Whilst a review of this little guy is waiting in the wings, from what we can tell looking at the specs, you'll be guaranteed an automated floor clean when you need it - all you'll need to do is schedule it and empty the bin every 60 days. Sounds like a good deal to me.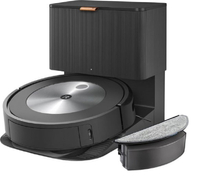 Roomba Combo j5+ self-emptying robot vacuum & mop was $799.99 now $499.99 at iRobot (save $300)
Although the Combo j5+ isn't down to its lowest-ever price (that was $478.98 on Amazon), a saving of $300 is still pretty awesome. It's a great option for pet owners to consider - it avoids pet accidents on purpose whilst cleaning dirtier areas with Direct Detect tech.
Price check: Amazon $499.99 | Best Buy $499.99
Roomba J5+ : features
Designed for both wet and dry floor cleaning, the Roomba Combo j5+ can be easily converted to suit your needs. It's essentially a Roomba j7 vacuum that can be easily switched from a hard floor vacuum to a mop system with the simple switch of a bin - simply pop on the Roomba Combo Bin, and your robot will automatically detect it's time for a combination clean.
It's a clever little robot. It'll avoid objects like cords, toys, towels, socks, shoes, and even pet waste. That's the P.O.O.P (Pet Owner Official Promise). And if it doesn't steer clear of your pet's waste, iRobot clearly states on their website that they'll replace your j5/j5+ for free.
It works with the iRobot Home app to create No Mop Zones, and to schedule cleans. The iRobot OS will work with the app to make cleaning more personalized, meaning that you can leave the j5+ to get on with the cleaning, so you have one less thing to worry about. Prefer to be completely hands-off? You can pair it with Alexa, Siri, or Google Assistant-enabled devices to command it by voice where it should or shouldn't be cleaning next.
The j5+ comes with a bin which it will automatically empty after each floor clean. It'll do this for up to 60 days. When this time is up, you'll need to remove and replace the bag found within the bin. The j5 is another option to consider if you'd prefer not to have this self-emptying ability; it's also the cheaper option.
More robot vacuum deals
iRobot is renowned for producing some of the best robot vacuums in the market. This is their area of specialization, and they don't make anything else other than robot vacuums and robot mops. If you're not sold on the j5/j5+, the brand has a bunch of other considerations, such as the latest Roomba j9+ (not on offer) or the Roomba 694, which is down to its lowest-ever price of $159.99. For a wider range of discounts, head to our Black Friday vacuum deals page.