If you want to save on buying your next washer, now's your chance as the Home Depot washing machine sale is now on.
Offering great discounts to rival some of the best Amazon Prime Day Deals 2020, Home Depot has savings of up to 35% off in its washing machine sale. With some brilliant bargains from brands featured in our round up of the best top-load washing machines, here, we'll show you the top washer deals for under $600.
With 20% off right now, you can buy the Samsung WA45T3400AW today for just $598 at Home Depot. This top-loading machine has a generous 4.5 cubic feet capacity, it's energy-efficient, and it's fitted with water jets that tackle stains before you start washing your clothes.
Amana washers are also reduced in this fall sale. Today only, you can buy the Amana NTW4516FW for $448 at Home Depot. With this washer, you'll get 3.5 cubic feet of washing space - a decent amount for a washer that's less than $500!
Our final pick for under $600 is the GE GTW335ASNWW which is on sale now for $566 at Home Depot. Saving you $63 off the original price, this washing machine has a stainless steel basket and offers 4.2 cubic feet of washing capacity.
Find the best Home Depot washer deals here…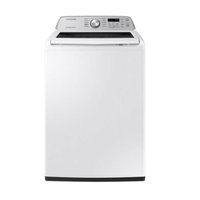 Samsung WA45T3400AW: was $749 | now $598 at Home Depot
There's 20% off this Samsung top-loader washing machine at Home Depot today. Designed to operate quietly and efficiently, this washer has a 4.5 cubic feet capacity - plenty for couples or small families. Hurry before this deal ends.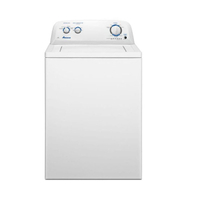 Amana NTW4516FW: was $499 | now $448 at Home Depot
You can take $51 off the original price and get this top-loading washer for an incredible $448. With 3.5 cubic feet of space, this washer offers great value for money but this deal ends today, so you'll have to be quick if you want to save.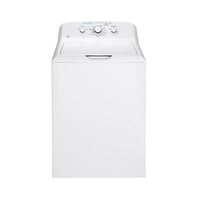 GE GTW335ASNWW: was $629 | now $566 at Home Depot
This special offer washer will save you over $60 on the original asking price. For your money, you'll get an impressive 4.2 cubic feet capacity, a deep clean cycle, and a speedy 700 RPM spin speed too.
If you need to buy a new washing machine, a top-loader washer might be your best bet as these machines tend to have quicker cycles so laundry doesn't have to be such a chore. Top-loaders also tend to be pretty cheap to run, so once you've bagged a bargain with the deals above, you can rest assured that you won't be shelling out a fortune to run your new washer.
Alternatively, if you're still unsure of which type of washer you want to buy, you can check out our full round up of the best front load washers. Whichever you choose, now is a great time to buy a new washer, with fantastic savings to grab while you can.