Printers are a bit like unicorns these days, and good printer deals are even rarer still, but there are a few cheeky discounts out there if you're willing to look including this 20% discount on one of the ever popular Canon PIXMA printers.
At the moment you can pick up the Canon PIXMA TR4520 for $79.99 directly from the Canon website. That's a $20 discount on this already very reasonably priced small printer, which normally retails for $99 (though with printers being in such high demand at the moment, we've seen plenty of retailers selling them for even more than this).
The Canon PIXMA TR4520 is one of the best compact printers out there, especially if you're looking for a budget printer that does it all. It prints, scans, and even faxes just like the best all-in-one printers but without taking up tons of space in your home office.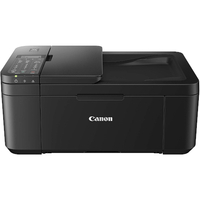 20% off the Canon PIXMA TR4520: Was $99.99 now $79.99 at Canon
Save $20 on the Canon PIXMA TR4520, an excellent little printer for the home office. It prints, scans, copies, and faxes while also packing in some extra features like automatic double sided printing and WiFi connectivity.
It's been tough tracking down printers over the last year thanks to manufacturing shortages caused by the COVID-19 pandemic, in conjunction with a huge spike in demand as millions of people moved from offices to working from home. Stock has been extremely hard to find and prices have often been inflated, so finding any kind of deal on a home printer is already like striking gold.
The Canon PIXMA TR4520 is an excellent choice if you're looking for a cheap home printer that you can use for printing off invoices, presentations, important documents, and cat memes to stick up on the fridge. It's easy to use and even prints borderless photos in a pinch, though it won't compete with the best photo printers out there.
If you're looking to avoid the hassle of buying printer refills, you can also sign up for Canon's Auto Replenishment Service which will allow your printer to automatically order new ink for you when it's getting low. This means you're never caught short, and you only ever have to buy the ink cartridges that you need. Alternatively, if you want to save cash and don't mind using remanufactured or compatible ink cartridges then you should check out our best discount ink cartridges guide, which has some great options for cheap ink refills.
Expect more savings in the Amazon Prime Day USA deals, and if you need guidance, we also have an article on the best Amazon Prime Day printer deals too.