There's a fantastic deal live at Dell right now that you won't want to miss if you're in need of a laptop upgrade: get the XPS 13 Touch Laptop for $969 off the original price - that's at 41% savings! Users rave about the XPS 13 Touch Laptop: it may be a small laptop, but it's fast, light, and has great battery life. If you're looking for a portable laptop that looks great, this is the one for you. And at such a great price, there's no reason why you shouldn't buy one right now.
We're particularly impressed with the display: colors are extra vibrant, and images are detailed. It's perfect for watching a movie on a long flight, or taking a study break to watch some short videos. Either way, it's the perfect mixed-use lightweight laptop and one of the best you can buy. Need and excuse to drop the cash? Check out our case for upgrading your laptop today.
The best use for the Dell XPS 13
If you're not planning on getting a laptop for yourself, you may have a college student in your life who needs one. The Dell XPS 13 makes our list of the best laptops for college. Help a college student start the semester off right with a brand new machine with enough battery life to last through multiple classes, light enough to tote around campus, and powerful enough to keep them occupied on those nights when they're not studying. It's a great deal on a laptop that's considered to be very, very expensive.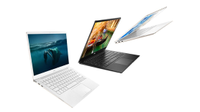 XPS 13 Touch Laptop: $2,368.99 now $1,399.99
Save $969 - Don't sleep on this deal. Save 41% on the XPS 13 Touch Laptop, which is one of our favorites for college students. Get it for just $1,399.99 with coupon code LTXPS132AFF at checkout.