Eyeglasses.com has a selection of frames that dwarfs most of its competitors, and its stock includes options made by more than 400 popular designers. In addition to its impressive inventory, the company makes a commitment to quality and has extra features, including eye care education materials. For these reasons, Eyeglasses.com is the best place to buy glasses online.
This online eyeglasses store has a large selection of frames for men, women and children, so you can buy glasses for the whole family in one place. It sells full-rim, half-rim and rimless frame styles and has a large stock of sunglasses.
While Eyeglasses.com carries a lot of frames, most of its inventory is virtual and acquired from third-party vendors. This allows the company to carry a wide selection, but if your chosen frames aren't on hand, they may take a few more days to get to you.
Eyeglasses.com has a massive catalog of 200,000 frames for men, women and children. It carries glasses made by more than 400 name-brand designers, including Dolce & Gabbana, Gucci, Prada and John Lennon.
It is easy to sort through this large inventory thanks to the site's intuitive, detailed search options. You can search by shape, material, gender, rim style, price, color and many other categories.
This online store carries a wide selection of lenses, extended lens options and coatings. You can buy single-vision, distance, progressive, bifocal, trifocal and reading glasses as well as lenses for fashion glasses. Eyeglasses.com sells lenses made from CR-39, high-index polycarbonate, Strivex and glass.
All the lenses it uses are manufactured at Essilor, the world's largest lens laboratory. Eyeglasses.com can also replace the lenses in your current frames – you just ship your current pair and new prescription to the company.
Each pair of frames is compatible with a variety of lens options. You can also choose from UV coating, anti-glare coating, polarized tints and mirror coating, along with several color tints and gradient tints. The site's Lens Wizard can help you decide which type is best for you – this tool takes you through each step of the decision process and explains each lens option and its cost.
While other sites like FramesDirect offer free shipping on every order, Eyeglasses.com ships U.S. orders totaling over $55 for free and standard shipping takes from one to six days. International shipping is also available, and it can deliver to FPO and APO addresses. You can also track your order and put a rush on your glasses free of charge. Its shipping options are first rate in most regards, but Eyeglasses.com doesn't pay for return shipping, shifting the cost to you if your glasses don't work out.
Founded in 1999, Eyeglasses.com was the first online eyeglasses store to offer virtual try on. Just like SmartBuyGlasses, its Virtual Try-On widget lets you see what you look like in a pair of frames, which takes some of the guesswork out of buying glasses online. Frames labeled with the VTO icon can be tried on using your own photo or a default model. In addition, if you have an account with Eyeglasses.com, you can use the Dressing Room function to compare photos side by side as well as email the pictures to your family and friends to get their opinions.
Eyeglasses.com also makes a commitment to helping customers understand eye care. The company's website hosts extensive guides and articles covering a variety of topics, including buying guides and information on insurance and eye health. It also has shopping wizards that guide you through choosing frames and lenses. In addition, there is an extensive database of ophthalmologists, opticians and optometrists sorted by state so you can find a local eye care professional.
You can contact Eyeglasses.com via a toll-free phone number and email, but it doesn't have live chat support. There is a 30-day no-questions-asked refund period on all glasses. In addition, if you end up with defective frames and they are made by a manufacturer that offers a warranty, you can return the glasses.
Eyeglasses.com also offers a Perfect Lenses guarantee that covers lab errors with your prescription lenses – if they aren't made perfectly to the prescription you submit, the company remakes them at no cost to you.
Eyeglasses.com is an impressive online glasses provider with one of the best inventories in the industry. Thanks to its extensive selection of name-brand frames, informative guides, free shipping and satisfaction guarantee, it is a one-stop shop where you can buy stylish glasses and learn more about eye health.
Contributing Reviewer: Linda Thomson
Need a better alternative?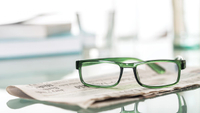 Top Ten Reviews has reviewed the Best Glasses online so that we're able to offer you the authoritative buying advice you expect.