Powered by gas but featuring an electric start function, the Lawn-Boy 17734 gas lawn mower replaces the pull-start method. You simply turn the key on the left side of the lawn mower and the engine purrs to life. This self-propelled lawn mower uses a 149cc Briggs & Stratton engine with a three-year guarantee, which works nicely if you have a small or average-sized yard.
The Lawn-Boy 17734 comes in a bright green that matches the logo and is a refreshing change from the usual red mowers. You also get a pull-cord option in case there is a problem with the electric start system, which is powered by a rechargeable battery. If you discover the battery is dead or won't start for whatever reason, you can always fall back on the pull cord, which started the mower for us with one easy pull in our testing.
Weighing in at only 72 pounds, with 11-inch wheels in front and back, this walk-behind mower comes with rear-wheel drive. This allows you to glide it over your grass, whether on flat or sloped areas, and around obstacles smoothly with little effort on your part.
You can cut a generous swath with this self-propelled mower since it has a 21-inch deck. This mower is better for smaller yards of a quarter-acre, but you can use it to cut grass quite nicely in slightly larger yards as well.
If you are a budget-conscious homeowner, the Lawn-Boy is an affordable lawn mower that follows the popular three-in-one trend. Namely, it can mulch, bag or discharge grass clippings, which gives you a helpful and multi-purpose lawn tending tool. Its 149cc OHV engine, with 6.25 gross torque, is one of the smallest in our lineup of lawn mower brands, but it should provide plenty of power for you to mow an average-sized yard.
The wheels are easily adjustable, with one lever in front and one in back. You can adjust the front and back with one smooth motion so all the wheels are at the same height. It also has a chute that you can attach if you want to mulch the grass you mow instead of catching the clippings in the bag.
Because the lawn mower has an electric start, you may be concerned about just how quickly you could stop the blades if you had to for some reason. A blade control bar is attached to the main handle. In the case of an emergency, such as a pet or child running in front of the mower, you can simply let go of the clutch bar, and the engine and blade will stop within three seconds.
The mower is backed by a two-year product warranty for starting, power and parts and a three-year power train warranty. For contrast, the longest warranty period we found was for our top pick, the Honda HRX - at five years. An online manual is available, but for an extra charge.
The Lawn-Boy 17734 mower is ideal for smaller yards that are flat or hilly, though its engine overall is just not big enough for larger yards. The rear-wheel drive and the electric start option are two of its best features. Its color is a refreshing change from the norm, and it has all the features most people with average-sized yards will need.
Need a better alternative?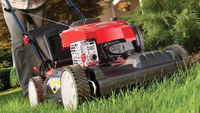 Top Ten Reviews has reviewed the Best Gas Lawnmowers 2019 so that we're able to offer you the authoritative buying advice you expect.