If you're looking for cheap microwave deals, you may have just hit the jackpot as Amazon is bundling in a free Echo dot when you buy its AmazonBasics Microwave, all part of the best Amazon Prime Day Deals 2020.
This AmazonBasics Microwave bundle is available now for just $59.99 at Amazon and includes the Amazon Echo Dot 3rd Gen - one of the best smart speakers - along with Amazon's voice-assisted microwave. But is the microwave any good? And should you take advantage of this big money-saving deal?
Well, this microwave is on its way to being a serious contender for one of the best compact microwaves as it won't take up much room on your counter and the voice assistance makes this microwave a breeze to use. Compatible with Amazon Alexa, you can simply ask this microwave to switch on and get to work.
And it's not just this bundle that'll save you money either. The Amazon Smart Oven and Echo Show 5 bundle is available for $244.99 right now at Amazon. Offering a saving of nearly $95, this bundle deal will only be live through October 14, so act fast before you miss out.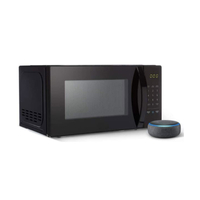 AmazonBasics Microwave bundle with Echo Dot 3rd Gen: was $99.98 | now $59.99 at Amazon
Save 45% on this stylish microwave and Echo Dot combo bundle this Prime Day. Activate your microwave with your own voice and benefit from 10 power levels with this compact microwave. Get this deal before it ends.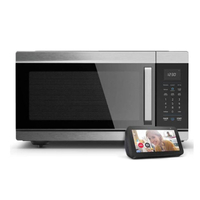 Amazon Smart Oven and Echo Show 5 bundle: was $339.98 | now $244.99 at Amazon
There's over $90 off this sleek bundle from Amazon. Not only does this smart appliance work as a microwave, but you're also getting an inbuilt convection oven, air fryer, and a food warmer. Voice-controlled, you'll be able to turn your microwave on when you command through your new Echo Show.
Smart and voice-activated microwaves are relatively new and these handy appliances are increasingly becoming more and more popular. Why? These microwaves let you command, using your voice, when you want your food to begin cooking. Pre-set controls will also take the guesswork out of heating up certain foods too.
Even more impressive, the Amazon Smart Oven can scan selected foods and automatically begin cooking them with minimal effort on your behalf.
Looking for Amazon device deals?
There's a whole bunch of great deals available right now as part of Amazon Prime Day. If you're after one of Amazon's own devices, see what's on offer right here...