A top LG washer deal is offering big savings at Home Depot today. You can save $800 on the LG laundry duo, the LG 5.5 cu. ft. High Efficiency Smart Top Load Washer, and the huge LG 7.3 cu. ft. Ultra Large Smart Front Load Gas Dryer. A whopping 32% off if you buy both the washer and the dryer, this LG deal is one of the best Black Friday Washer and Dryer Deals we've seen so far.
A brand that comes up time and time again among the best top load washers and the best dryers, LG is renowned for making fantastic laundry appliances, and this washer deal is no exception!
For a combined price of $1696, down from $2498, you'll be getting an Energy Star certified top-load washer that has a huge 5.5 cubic feet capacity - that's more than big enough to handle family washing, bedding, and comforters.
You'll find this impressive LG washer duo deal below, along with price options if you want to buy the washer or dryer separately.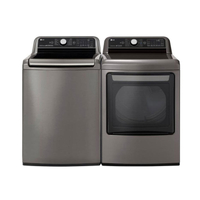 LG Electronics Smart Top Load Washer and Ultra Large Smart Front Load Gas Dryer: $2498 now $1696 at Home Depot
There's a mega saving on this laundry duo, now $802 off in the Black Friday Home Depot sale. WiFi-enabled and boasting huge capacities, this washer and dryer duo will make life so much easier, and the washer is Energy Star certified too.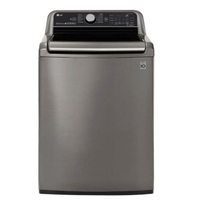 LG 5.5 cu. ft. Mega Capacity Top Load Washer: $1199 now $798 at Home Depot
This Energy Star certified washer is now over $400 cheaper, thanks to this Home Depot deal. There's an enormous 5.5 cubic feet capacity, and you can operate this washer via an app. SenseClean settings work automatically to provide exactly the right wash setting that your clothes need.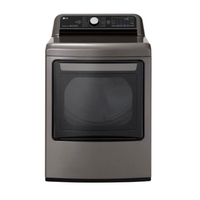 LG 7.3 cu. ft. Ultra Large Smart Front Load Gas Dryer: $1299 now $898 at Home Depot
This impressive giant dryer takes all the effort out of doing laundry as it's smart-enabled and can be set to work via an app on your phone. Featuring a stylish finish and five temperature settings, this dryer also lets you customize your own drying cycles. With over $400 right now, this is a great deal worth snapping up.
The LG Mega Capacity Smart Top Load Washer is designed to make the chore of laundry almost effortless. Using an app, you can see when your washing is done, set it to work, or even use voice activation to get your washer started.
Another handy feature we love on this LG washer is its SenseClean functionality, which automatically detects which wash setting and how long your clothes will need in order to get them beautifully clean, without damaging them with unnecessarily harsh washing.
The LG Ultra Large Smart Dryer has an impressive 14 drying cycles, including modes designed specifically for bedding, sports clothing, and delicates. Designed to work effectively but not noisily, this dryer has an LG LoDecibel motor so that it doesn't disturb you. Even better, if you're not a fan of ironing, this dryer has a SteamFresh cycle which works to remove wrinkles in your clothing.
You can choose whether you want the LG Smart Dryer's door to open downwards or to open to the side, either way, making loading and unloading that bit easier.
Whether you want to take advantage of this brilliant LG washer bundle saving or buy the machines separately, don't miss out.
More great LG deals
Save on other items for your home with our guide to the best Black Friday Refrigerator Deals, or find a great gift in our round up of the Best Black Friday USA Deals.