The Fruitful Greetings Gift Basket from FTD smelled great when we took it out of its box, but our taste testing panel only rated the fruit as above average and the rest of the food items were disappointing. For around the same price, we recommend the Founders' Favorite Gift Box from Harry & David because the fruit tastes much better and the snacks are just as delicious as the fruit.
In our taste test, we invited 20 members of our team to rate food items on a scale of 1 to 4. After averaging the scores, the fruit from FTD averaged 2.4/4. This was the lowest fruit score. The other snacks and treats in the gift basket received poor scores as well, however, making the total score for the basket 2.5/4. We rated this basket a D+ for taste, tying Mary Gift Baskets for the lowest taste score.
FTD has kosher gift basket options available on its website, but there aren't any vegan options. The best basket companies like GourmetGiftBaskets.com have both options available.
Though the FTD box arrived in great shape, it wasn't the box we ordered. In fact, we didn't order anything from FTD; we ordered a fruit gift basket from GiftBasket.com. However, because we selected ground shipping and our Utah office is so far from the GiftBasket.com New York headquarters, the company decided to outsource the order to FTD, which sent us a comparable basket. When we called GiftBasket.com to ask about the switch, they pointed us to their terms of service which specify that the company can substitute any item or the entire gift basket if deemed necessary. While we initially ordered this basket from GiftBasket.com, we chose to review the basket we received from FTD – and FTD as a whole – instead of GiftBasket.com.
The biggest takeaway from this drop-shipping incident is that the shipping method you choose may affect what basket you receive. If you're worried about not receiving the exact product you're shopping for online, we recommend calling a customer service agent to see if you'll receive the basket you ordered.
FTD accepts credit cards, PayPal and gift cards, but there's no option for overnight delivery from this company. In terms of shipping options, you can choose ground, express shipping, next-day or weekend shipping, though weekend shipping can add a significant cost to your order.
FTD has phone, email and chat support, and we can verify that the customer service is good. When we called about the drop-shipping incident, FTD asked if we wanted a full refund of the basket. There's also a FAQs section that can answer many questions.
The Fruitful Greetings Gift Basket from FTD had paltry snack offerings and only slightly above average fruit. If you're looking for a gift basket with better ripened and more delicious fruit, we recommend you shop for a basket from Harry & David, our top choice.
Need a better alternative?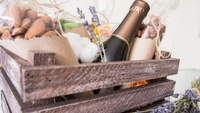 Top Ten Reviews has reviewed the Best Gift Baskets of 2019 so that we're able to offer you the authoritative buying advice you expect.