Want to achieve a manicured lawn? Using the best riding lawn mower with a bagger help keep your yard pristine. Attaching a bagger means you don't leave unsightly clumps of grass scattered across the lawn.
Riding mowers are convenient for large plots, making short work of lawns of several acres. If you're mowing on a grand scale, collecting all the grass clippings can be daunting. But a riding lawn mower with a bagger does the work for you, sparing you from this mammoth task. It can save you time by tackling two chores at once.
If you're in the market for a riding mower, there are several factors to weigh up. It pays to consider factors like speed, quality of the cut, and cost. Our guide to the best riding lawn mowers takes you through the buying process, step-by-step.
Look out for mowers that offer different options for your grass clippings to give you more choices. You may see products with a mulching kit attachment, which allows you to return nutrients to the grass.
Adding a bagger into the equation can make the buying process more complex. Be aware that most riding mowers don't supply a bagger with the product - you will need to purchase this separately and factor it into your budget.
Best riding lawn mower with a bagger
Why you can trust Top Ten Reviews Our expert reviewers spend hours testing and comparing products and services so you can choose the best for you. Find out more about how we test.
When choosing a bagger, compatibility is the top consideration. Not all baggers fit all mowers, so check this before you commit. You will also want to factor in the capacity of the bagger, which will depend on the size of your plot. Thankfully, we've researched the best riding lawn mowers suitable for use with a bagger. We've saved you a job by recommending a compatible bagger for each one.
Riding lawn mowers with a bagger
If you want to take the chore out of lawn maintenance, the Troy-Bilt Bronco 42 has got you covered.
What the users say…
The Troy-Bilt Bronco 42 scores a solid 4.3 out of 5 from over 900 reviews on the Troy-Bilt website, with 84% of reviewers recommending the product. People praise the speed, with several mentioning it cut down on mowing time. However, several reviews suggest the pedal is stiff, which may be tiring if operating it for hours at a time.
Accelerating up to 5.5 mph, it makes short work of the largest plots. The extra-wide 42-inch cutting deck enables you to cover more ground and saves you time. This mower is designed with convenience in mind. The separate bagger accessory makes for easy clean-up, as you don't have to comb the lawn for stray clumps of grass.
The AGM battery promises reliable starting, meaning you can feel confident it will fire up after long periods in storage. Want manicured results? Clever design features like the anti-scalp wheels help you minimize unsightly tire marks. At slightly over the $2,000 mark, it falls into the middle range of the mowers on our list, but remember to factor the bagger into the price too.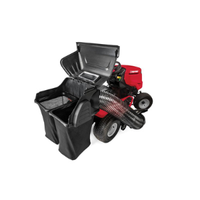 Compatible 42 Inch and 46 Inch Double Bagger
This double bagger makes collecting grass clippings a breeze. It comes with 2 bags, providing ample capacity for up to 6.5 bushels. It's suitable for other mowers with a 42 or 46-inch cutting deck, including Craftsman, Columbia, Remington, and Yard-Man products.
---
The Cub Cadet XT1 is designed to be an absolute powerhouse of a riding lawn mower, making it a great choice for those with extra large lawns.
What the users say...
Cub Cadet XT1 scores a decent 4.0 out of 5 on the manufacturer's website. Users were impressed with the power of the machine, with several mentioning it can handle bumpy and challenging terrain, including hills. A couple of reviewers complained about issues with the battery not holding its charge, though they were in a minority. It's backed by a generous 3-year warranty to put your mind at rest.
With a 19-horsepower Briggs and Stratton engine, it can help you blitz through the mowing. Plus, it can even handle hills, ideal if you're on an uneven plot. If you want a spotless finish, you'll be pleased to know this mower is compatible with a bagger, saving you from raking unsightly clippings. This trusty machine can help with other tasks around the yard, with a range of accessories available to purchase separately, including a snow blower, mulch kit, and rear spreader.
The Cub Cadet XT1 makes for a responsive ride, thanks to a 16-inch turning radius. Plus, it spares you the effort of shifting gears with the hydrostatic transmission - simply press the pedal and go. The downsides? Some assembly is required, so you will need to factor this in. At around $2,400, the Cub Cadet XT1 isn't the cheapest lawn mower with a bagger, but it may be worth the investment if you want maximum power.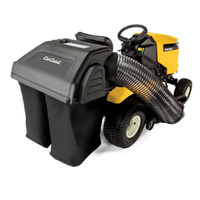 Compatible 42 Inch and 46 Inch double bagger
Eliminate the faff of raking grass clippings with this double bagger. It includes two bags with a 6.5 bushel capacity. It's compatible with Cub Cadet XT1 and XT2 Enduro Series lawn tractors with a 42 or 46-inch mowing deck.
---
If you want an upgrade for a walk-behind mower, look no further than the Troy-Bilt TB30B.
What the users say...
The Troy-Bilt TB30B scores a commendable 4.2 out of 5 out of 245 reviews on Home Depot. People are pleased with this model as a replacement for a push-mower, noting it's ideal for mid-sized lawns. They are also confident in its cutting ability. A handful of reviews mention it is lightweight, which means it's best suited to flat terrain to avoid tipping over.
This compact riding mower is similar in size to a push model, perfect for when storage space is at a premium. If you don't want to spend a fortune on a riding mower but still want good results, the Troy-Bilt TB30B could be for you. At $1899, it's the cheapest option on our list, ideal if you're on a budget.
Plus, a mulching kit is included. It's a fantastic way to return nutrients to the soil, resulting in a greener, healthier lawn. This mower is also compatible with a bagger, which you can purchase separately for sections you want to keep pristine.
As you would expect for a smaller mower, it may take you slightly longer to get the job done. The cutting deck is narrower than other options, so you may need more passes to cover the space. For that reason, it's best suited to medium plots.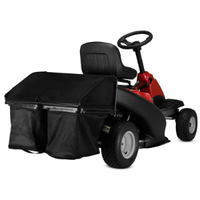 Compatible 30 Inch Double Bagger
This bagger is designed for compact rear-engine riding mowers, including Cub Cadet, Troy-Bilt, Columbia, Remington, and Yard machines from 2013 or later. It fits a cutting deck of 30 inches and provides a capacity of 3.2 bushels. You can use this bagger to collect leaves in the fall, making it a versatile choice.
---
If you're searching for a premium model, the Cub Cadet Ultima ZT1 fits the bill. At around $3,800, it is a splurge, but several features justify the price tag.
What the users say...
The Cub Cadet Ultima ZT1 has rave reviews, scoring 4.6 out of 5 with over 3,000 reviews on Home Depot. 89% of reviewers recommend this product. People love the superior performance and maneuverability of this zero-turn mower. One reviewer commented that "it turns on a dime." The drawbacks? Several are disappointed that there is no hour meter, which makes it hard to know when to perform maintenance tasks. A few people suggest it could benefit from a gas display level too.
Thanks to a Kawasaki 23-horsepower engine, it offers impressive power. Combined with a super-sized 50-inch cutting deck, it makes light work of mowing the largest yards. This beast of a machine can tackle plots over 5 acres, including ones with slight hills.
All of this means it cuts down on mowing time, allowing you the leisure to sit back and admire your handiwork. With the help of this nippy machine, you can transform lawn maintenance from a chore into an enjoyable experience.
It doesn't disappoint on mowing performance either. The Aeroforce cutting system was judged best-in-class according to independent testing, offering a precise, even finish. If we're being picky, it could benefit from a few features to finish it off, like armrests and an hour meter, but overall, it's a top-quality mower.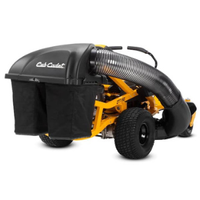 Compatible 50 Inch and 54 Inch Double Bagger
This extra-large double bagger fits Ultima ZT1-50 and ZT1-54 zero-turn lawn mowers, offering ample room with a 6.5 bushel capacity. The hood design has been improved to provide optimal performance, delivering a neat finish.
What to consider when buying a lawn mower with a bagger
Pros and cons of having a riding lawn mower with a bagger
If convenience is a priority, a riding lawn mower with a bagger may be a sound investment.
What the expert says...
"When selecting a bagger, make sure that it is compatible with your riding lawn mower, and always be sure to select the bagger with the appropriate capacity. The larger the lawn, the higher the capacity." Mark Bradley, CEO of Landscape Management Network
"Riding lawn mowers can make maintaining large patches of grass easy, but without a bagger, they can often create a larger mess than you started with. Purchasing a riding lawn mower with a bagger attachment will make picking up clippings an afterthought as they are conveniently picked up and placed in the attached plastic bin," says Mark Bradley, CEO of Landscape Management Network (LMN).
This may be important to you if you're on a large plot where it might not be practical to rake a huge area or if you want to minimize physical exertion. The other main reason people choose a mower with a bagger is to enhance curb appeal, as it creates a well-groomed look.
Yet, you'll want to weigh up the pros and cons. "One of the biggest trade-offs users of baggers will have to make is not having the additional fertilizing benefit of leftover trimmings on their manicured grass. Instead, they will have to frequently use fertilizer to keep their lawn in pristine shape," explains Mark. This means you will need to factor this into your schedule to keep your lawn healthy.
A greener option might be to purchase a separate mulching attachment. You could use this to give the grass a nutrient boost or on areas out of sight where looks are less important.
Expert contributor
Mark Bradley, CEO of Landscape Management Network, has decades of experience in the landscape industry and is an expert on all things yard care. Before co-founding Landscape Management Network, Bradley built TBG Landscape from a backyard business into one of North America's Top 100 landscape contracting companies.
---