If your favorite retailer to shop is Best Buy then you're going to love these Best Buy Black Friday deals. You'll equally be interested to know about these deals if you want to save top dollar. Whilst Black Friday is announced for 24 November, we've seen a bunch of the best Black Friday deals land early that are worthy of a space in your shopping cart.
Ever since Amazon Prime Day on October 10 - 11, I've seen a bunch of tempting Best Buy deals still 'live' after an anti-Prime Day ambush that rivalled even the best deals on with Amazon. This marks the beginning of the early Black Friday deals. To help you ensure that you're getting a good deal, I've selected 10 Best Buy Black Friday deals that have arrived early.
A continuation of the 24 hour Flash Sale means that the Ninja DualBrew Hot & Iced Coffee Maker is still down from $159.99, to $139.99 at Best Buy which rivals the list price on Amazon. I've also spotted that there's been further price drops since the Labor Day sale on appliances such as the Ninja Foodi 14-in-1 8qt. XL Pressure Cooker & Steam Fryer with SmartLid which was originally $279.99, discounted to $179.99 and now it's $149.99 at Best Buy.
This goes to show that sometimes it's worth holding onto the purse strings until Black Friday so you can get appliances and smart home devices at rock bottom prices. We'll keep a lookout for more deals added into the early Best Buy Black Friday deals so stick with Top Ten Reviews so you can check out with the best deal.
Best Buy Black Friday deals: the best offers
Our top 10 early Best Buy Black Friday deals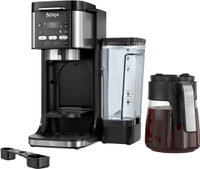 Ninja DualBrew Hot & Iced Coffee Maker was $159.99, now $139.99 at Best Buy
While this Ninja coffee maker is already inexpensive, it's just a little more affordable with a nice $20 discount. What makes this model special is the fact that it can do both hot and cold brew coffee along with compatibilty with K-Cups.
Price check: Amazon $139.99
Alternative pick: Braun Brew Sense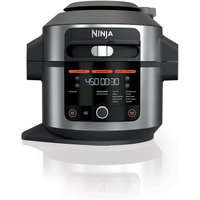 Ninja Foodi 14-in-1 8qt. XL Pressure Cooker & Steam Fryer with SmartLid | was $279.99, now $149.99 at Best Buy (save $130)
We don't have to remind you how much we love Ninja's air fryers, and this Foodi 14-in-1 is one of the best in their range. It steams and crisps simultaneously so that food comes out juicier and crispier than traditional air fryers. And with 14 one-touch settings, it couldn't be easier to cook your favorite food.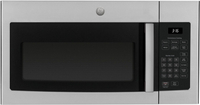 Ninja Foodi 14-in-1 8qt. XL Pressure Cooker & Steam Fryer with SmartLid | was $314.99, now $149.99 at Best Buy (save $130)
We don't have to remind you how much we love Ninja's air fryers, and this Foodi 14-in-1 is one of the best in their range. It steams and crisps simultaneously so that food comes out juicier and crispier than traditional air fryers. And with 14 one-touch settings, cooking your favorite food couldn't be easier.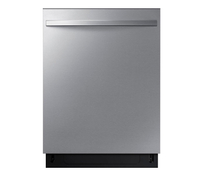 Samsung 24" Top Control Built-In Dishwasher with 3rd Rack, Fingerprint Resistant Finish | was $719.99 now $499.99 at Best Buy (save $190)
This freestanding dishwasher features a convenient 3rd rack, enabling you to load everything more efficiently, and an AutoRelease Door, which delivers improved drying performance. It's the lowest price it has been in a while, and although it isn't in stock right now, you can order it for delivery in October.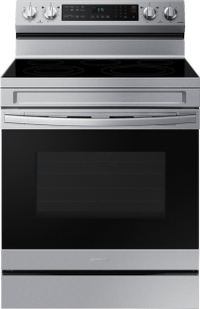 Samsung 6.3 cu. ft. Freestanding Electric Range with WiFi, No-Preheat Air Fry & Convection | was $989.99, now $779.99 at Best Buy (save $201)
This Samsung range has everything you could want, from a cooker to a large convection oven and a 5-burner cooktop. It can air fry, rapidly boil, dehydrate, and keep warm. And on top of that, it's Wi-Fi and voice-enabled - so you can monitor and adjust the temperatures/cooking from wherever you are. It can even self-clean and steam clean to keep your oven in good shape. Now, over $200 off!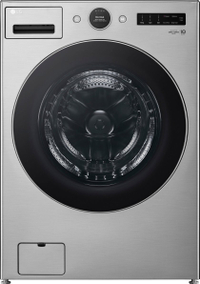 LG 4.5 Cu. Ft. High-Efficiency Smart Front Load Washer with Steam and TurboWash | was $1,299.99, now $849.99 at Best Buy (save $500)
Save $500 on this huge front-load washer from LG. It's designed to be high-efficiency, and it features an LCD display. Advanced sensors detect fabric type, load size, and soil level to optimize your wash and select the optimal settings.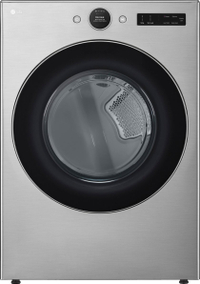 LG 7.4 Cu. Ft. Smart Electric Dryer with Steam and Sensor Dry | was $1,299.99, now $849.99 at Best Buy (save $450)
Another generous $500 saving from LG, this 7.4 cu. ft. electric dryer has many smart features to keep your laundry as fresh as possible. Like other LG washers and dryers, it optimizes the spin using sensors. But this dryer stands out because of its steam feature: it can refresh clothes and ease wrinkles in 10 minutes.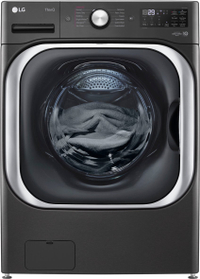 LG 5.2 Cu. Ft. High-Efficiency Stackable Smart Front Load Washer with Steam and TurboWash | was $1499.99, now $1099.99 at Best Buy (save $400)
In a sleek, stackable design, this LG smart front load washer has a huge 5.2 Cu. Ft capacity - enough to fit a king size comforter and a full set of bedding. The washer can complete loads in as little as 30 minutes, and it uses a fabric sensor and smart pairing to optimise the wash depending on the load. You can even use the ThinQ app to start washes remotely and check cycle times.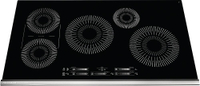 Frigidaire 36" Built-in Induction Electric Cooktop | was $2,199.99, now $1,199.99 at Best Buy (save $1,000)
Looking to upgrade to an induction cooktop? Now, with a $1,000 saving, this five-burner cooker has a spacious 36'' surface and easy-to-use controls. It can maintain an even temperature the entire time you cook and features a bridge element to combine two elements for larger pans or griddles.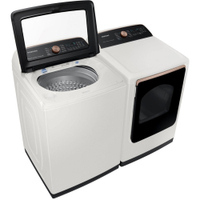 Samsung Smart Top Load Washer + Smart Electric Dryer | was $2,159.98, now $1,459.98 (save $700) at Best Buy
Saving you $700 compared to if you bought this pair of Samsung Appliances separately, Best Buy's bundle offer on the 5.5 cu. ft. extra-large top load washer with Super Speed Wash and 7.4 cu. ft. smart dryer with Steam Sanitize+ is a real bargain if you're in the market for one of the best washer dryer combos.
Black Friday 2023: Key information
When is Black Friday 2023?
We have a date: November 24. However we can predict that the early sales will launch much sooner, as they have. This is what happened last year, which was owed to Amazon's 2nd Prime day sale.
Since the second instalment of Amazon Prime Day deals on October 10 - 11, we saw a swath of competing sales from retailers including Best Buy which has kicked started the holiday shopping season. We may even see some deals continue to 'stick' from the time of Prime Big Deal Days through to Cyber Monday, although product availability is the influencing factor on just how long these discounts will hang around for.
What is Black Friday?
Black Friday traditionally signifies the start of the holiday shopping season in the US, with almost all retailers - both in the malls and online - slashing prices in the hope of persuading shoppers to buy holiday presents early. Almost everything is up for grabs, with the best Black Friday deals taking in electronics, clothes, toys, home furnishings, cookware, and much more.
The best Black Friday deals can see 50%, 60%, or even 70% discounted off the hottest items. Last year, Black Friday shoppers spent $7.4 billion online alone, making it the second largest internet shopping day ever, while billions of dollars more would have been splurged in stores across the US. However, Black Friday deals do not stand alone, with Cyber Monday now offering just as many buying opportunities - indeed, it is the $7.9 billion spent online across Cyber Monday 2018 that is the best-selling day ever in terms of online revenue. In some instances, the Cyber Monday deals can be even better than Black Friday, particularly if retailers are keen to shift on any remaining stock.
Black Friday 2023: Buying advice
How to get the best Black Friday deals?
We're not newbies to helping our readers shop for the best Black Friday deals. In fact; we have a few tips and tricks to help you save on your most wanted products and devices. These tips will help you to secure the best Black Friday deals prices, which can apply to holiday sales going forward too.
Check different retailers
If you're targeting one item in particular, then remember to look for it across as many of the different websites that you'd expect to find it. This is because not all retailers will discount to the same degree or be beginning from the same starting price - as with everyday, out of sale shopping, this can lead to differences between the prices of the same item at various sites, so is always worth checking.
Look at CamelCamelCamel
A highly useful tool for Black Friday and Prime Day, CamelCamelCamel tracks the prices of items sold on Amazon. So if you're looking to buy from Amazon, you simply input the name of the product you're looking at (or copy and paste the URL), and you'll be able to see how the price on offer compares with what it has been before. While it's likely that Black Friday will prove the lowest price it has ever been, it doesn't hurt to check!
Start your research now
It's never too early to compile a shopping list of the items you're thinking of buying across the holiday season. If you have the time, check to see what price things are selling for now, so when Black Friday comes, you'll have a better idea of whether you're getting a really good deal or not. What you want may already be in a sale now, in which case you might have the chance to snap up a bargain before the hordes descend on malls and online on Black Friday itself.
Bookmark this page
Thought of trying to keep watch on all manner of retailers filled some people with dread, which is why we compiled this one-stop-shop of all the best Black Friday 2020 deals, giving you a flavor of the type of Black Friday discounts and deals you could have expected on the big day, and ahead of the event too.
Where can I find the best Black Friday deals?
We'll be looking out for the best Black Friday deals, so your best option is to bookmark this page since we'll be amongst the first to hear when any deals land. This page will be updated throughout the main event, and as we approach Cyber Monday. Keep checking back to this list of retailers who tend to have some of the best Black Friday deals going:
What to expect during Black Friday 2023
With a second instalment of Amazon Prime Day now said and done it can only mean one thing; the best Black Friday deals are coming. Last year, the Amazon Prime member-only event landed a few weeks prior to Black Friday which acted as a fantastic teaser to access early deals.
Despite the tough economic conditions, retailers continue to be keen to get involved with Black Friday with some cutting prices to the lowest, ever. This makes it a great time to get the latest gadgets on the market. Whether it's a new washing machine or dishwasher, appliances can attract some of the biggest discounts year after year.
Retailers are looking to move this year's models on before stocking up on the latest models, so if you're not fussy about getting the very latest appliances to hit the market, Black Friday is a great time to buy. Our best Black Friday refrigerator deals and Black Friday washing machine deals pages will be worth watching too.
Cool gadgets like the Instant Pot, slow cookers, and immersion blenders are often hot buys as Black Friday nears simply because it's comfort food season! Black Friday kitchenware deals are a great incentive to step up your cooking game, especially if you're expecting a lot of people around the holidays. Treat yourself to the popular Instant Pot, a blender, or even a rice cooker at crazy low prices!
Need new furniture? We've seen everything from love seats to dining sets on sale for Black Friday. It's one of the best, if not the best time of year, to replace all your old furniture – and just in time for all your friends and family coming over for the holidays. Or maybe there's some new mattress deals that you'll be eyeing up - why not get ahead of the game and take a look at our round-up of the best Purple mattress deals , along with the best Casper mattress deals and the best Saatva mattress discounts.
What would the holidays be without gifts, and if there's a tyke or two on your gift-giving list, you may want to read up on the hottest toys of the season. Yes, that's right - every year, parents fight over the best toys, and believe of not, many do sell out. Black Friday is hands down the best time to get started on your holiday shopping, especially for children and babies!
Black Friday vs Prime Day
When it comes to scouting for Amazon Prime Day deals and Black Friday deals, both of these major shopping events will have the products and / or devices that you want, for less. There are a couple of key differences, however:
The biggest difference is that Amazon Prime Day provides exclusive discounts and offers only for their Prime members, whereas other retailers share discounts and deals during Black Friday with all shoppers. The timings of the two events are different, too, with Prime Day running two events in the year of late - one in the summer, and the other in fall, - with Black Friday historically taking place on the last Friday of November.
Up until recently, Prime Day was a fantastic opportunity to buy smart home devices such as the best video doorbells, smart speakers and smart lights, and Black Friday was an opportunity to obtain large appliances, furnishings, mattresses and other household goods. However with Prime Day now becoming a fixture not once but twice in the year, and a growing demand, brands listed with Amazon are jumping on the band-wagon so that you can get your hands on a wider selection of products.
It feels like Amazon perfectly timed their Big Deal Days in October 2023 to act as a teaser to Black Friday, as they did last year. This means that it's likely you'll see greater discounts on Amazon before Black Friday which are exclusive to their Prime members and therefore act as a reward for being a member. That said, this doesn't mean that other retailers won't offer competitive deals and discounts for Black Friday 2023.