Best Firewall 2019 - Comparison of Personal Firewall Software
You don't need a standalone personal firewall program, but it's smart to get an internet security program that includes a firewall. After nearly 300 hours of researching and testing security software, we found that Bitdefender Internet Security 2019 is the best overall firewall option for Windows computers and Intego Premium Bundle is good for Mac users. If you're on a budget, Avira Free Internet Security is a good option that offers decent protection and a few extra security tools.
To discover today's best security options, head to our best antivirus guide.

Editor's Note: We've evaluated the newly released Bitdefender Internet Security 2019. While this new version has an updated layout, it retains the great tools and features that make it one of our best picks for personal firewall software.
Best Overall
Automatic firewall settings
Secure deletion of threats
Includes webcam protection
Mobile protection costs extra
Online backup not included
Silent mode must be manually enabled
Personal firewall security is one of the many protections included with Bitdefender Internet Security. In addition to blocking viruses, Trojans, rootkits and hackers from breaking into your network, Bitdefender scans your system for any out-of-date programs and gives you a link to a legitimate site where you can download the latest version. This helps strengthen the weakest point of your computer – old programs – where hackers and ransomware developers like to break through and infect your files.
There are also useful parental controls that let you block dangerous content by selecting a filter category such as violence, pornography and online gaming. It also has a safe browser and a password manager, two great features to help keep you safe from online snoops, cookies and spyware. One unique feature Bitdefender includes is webcam protection. This keeps tabs on your computer's webcam to ensure it isn't turned on without your knowledge or permission.

Bitdefender Internet Security is a Windows firewall and internet security program. It doesn't have mobile protection capabilities, but Bitdefender does have separate mobile security programs for both Android and Apple phones and tablets. It also has a Mac operating system solution, though it is more limited than the Windows security program.
Best for Mac
Specifically designed for Mac operating systems
Includes parental controls
Checks for outdated software programs
It's a bit pricey
Doesn't detect Windows malware
A little tricky to setup
Intego Premium Bundle is a good choice for protecting your Mac computers since it is specifically designed for Apple products. It bundles all its security programs into a single folder, so you can determine which programs you want to enable and use. Its NetBarrier firewall senses whether you are connected to your home network or to a public hotspot and will adjust the protection settings accordingly.
Parental controls help keep your children from seeing inappropriate content online, while the Mac Washing Machine helps you close any weak spots created by out-of-date software. VirusBarrier is the antivirus program of the Premium Bundle, and it consistently earns high scores in independent laboratory tests for protections against Mac malware. It does struggle to identify Windows malware, which means it is possible to accidentally send a virus through email or shared links to family and friends that don't use Mac machines.

Intego firewall protection is compatible with iPhone and iPad. However, it only comes with a single license, so if you want to protect multiple devices, you need to purchase several licenses. This could get expensive since this program is pricier, especially for a single license, compared to other solutions.
Budget Friendly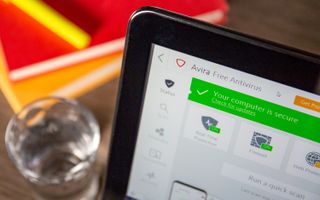 Free internet protection
High malware protection rate
Automatic gamer mode
In-program ads
No parental controls
Mobile protection is an added cost
While many internet security companies offer a free antivirus solution, Avira is one of the only companies to include tools that are usually found in paid security suites. Avira Free Internet Security has firewall protection that looks for bots, worms, spies and hackers trying to break into your computer, lock down your files and steal your identity. Its virus scans are very effective at identifying and blocking malware, including ransomware.
Tools include a password manager and a secure browser so you can log in to online accounts with your user names, account numbers and passwords knowing they're shielded from cookies, keyloggers and spyware. The system scan looks for programs that are out of date and helps you find safe sources to download newer versions so these weak points can't be breached by hackers, ransomware and other malware.

Some of the more advanced tools aren't included, such as mobile protection and parental controls. These are included with the paid version of Avira Internet Security. Avira Free Internet Security has a few in-program ads promoting the features in the paid version, which could be bothersome.
Mobile Firewall
Works on Android and iOS devices
Slows down some computers
McAfee LiveSafe scans your devices in real-time, so it stops threats coming through your internet connection, the web and email quickly before they reach your system.
It's compatible with both Android and iOS tablets and smartphones, and we found it wasn't too difficult to install and set up on mobile devices. McAfee comes with social network protection that keeps an extra close eye on threats that try to sneak in through sites like Facebook or Instagram by warning you of any links that will start a virus download or redirect you to a malicious website. These tools work on computers and laptops, too, but we found McAfee causes slowdown while running on these devices, though not on mobile devices. McAfee LiveSafe includes an unlimited number of user licenses, and you only need one program for every device and operating system.
Multiple Device Compatibility
Compatible with both Windows and Mac
Doesn't offer online backup
The personal firewall included with Norton Security Deluxe is compatible with both Windows and Mac computers and laptops.
It monitors your internet connection making sure any communication with your computer is safe, and nothing is being leaked through your connection. Norton alerts you if someone is stealing or piggybacking on your internet, or if a hacker is trying to sneak in. Plus, it comes with powerful virus protections, easily blocking Trojans, rootkits, worms and other malware.
Norton Security Deluxe works on mobile devices, and these firewall features work just as well on both iOS and Android operating systems. One drawback of this firewall program is Norton doesn't offer online backup for your files with its Deluxe program. However, you can upgrade to Norton Premium to get this feature, which is a good way to protect important files and documents in case your computer crashes or gets hacked.
Why Trust Us
We have been researching and testing internet security solutions for nearly 15 years and devote hundreds of hours each year to keeping up with the latest changes, trends and most prominent threats in the industry. This has helped us gain a firm understanding of how these programs work, what to look for when testing and additional steps you can take to help protect yourself.
We also are aware of the additional protection tools included with each program, so we can confidently recommend a solution for your needs, whether your focus is mobile protection, keeping children safe while online, or covering a specific operating system or device. We can also recommend solutions that won't put a strain on your budget, or provide options that aren't too technical if the idea of setting up internet protections is a bit intimidating.
How We Tested
Before testing personal firewall software we chatted with Mitch Stephens, a security consultant with Emagined Security and with Steve Smith, a former systems analyst for a major health provider. With their help, we developed a testing methodology that mimics real-life scenarios when using a firewall and internet security program. As we tested these programs, we could analyze how well each program protected our network, as well as how it worked in an environment other than a controlled, sterile laboratory.
We ran vulnerability scans to see if the firewall software caught any outdated programs. During these tests, we looked closely at how much lag the software created by doing common tasks such as sending email, performing web searches, downloading software, sharing files, watching videos and playing games online while the software was running.
What Is Personal Firewall Software?

A firewall is protective software on your home modem or router that makes sure snoops don't penetrate your network to spy on you or access any of your devices. Personal firewall software acts like a gatekeeper for a single device and gives you lots of ways to customize your security settings.
Personal firewalls keep sensitive information from leaving your computer and stop unauthorized apps from sneaking onto your computer. This is especially important when you connect to a Wi-Fi hotspot since public internet services don't have a network firewall like your home network does, making you more susceptible to hackers, ransomware and other threats.
Good personal firewall software also detects when someone is piggybacking on or stealing your internet connection. When this happens, your connection speeds slow down substantially, so detecting and severing this activity is helpful.
Do I Need Firewall Software?
While both Windows and Mac operating systems come with a built-in firewall, third-party tests show they don't protect quite as well as third-party software. The good thing about firewall software is it works alongside your operating system to give you a double layer of protection and catch anything the first firewall may miss. Also, these programs come with other security features, such as antivirus tools, safe banking tools, vulnerability scans and parental controls.
Don't Wait!
Don't put off buying an internet security solution until after your system is hacked. While firewall and antivirus programs are excellent at preventing an attack, they can't always clean your system once malware infects it. When this happens, you need to be pretty tech savvy to get everything off. We suggest taking your computer to a reputable computer geek to help you restore your system. Once clean, you can then install firewall protection and keep future attacks from happening.
Firewall Routers
There are new devices popping up, such as the Bitdefender BOX and the Norton CORE. These network firewalls connect to your router and protect your whole network, and every device connected to it, from a single point. This means you don't have to download security software to your devices, freeing up room and valuable resources. However, when we tested firewall routers, the consensus was that they aren't simple enough for average consumers to use just yet. They require a level of tech savvy. In our tests, they proved difficult to set up and required us to change IP addresses, resulting in lost internet connection for several hours. We ultimately needed our internet provider's support team to help get the connection back. The concept is great, but unless you are very tech minded, you'll probably be best served by software instead. We'll be keeping a close eye on developments and testing future versions.
How much does a personal firewall cost?
Your operating system most likely came with a firewall, but it's always a good idea to have a second layer of protection. We suggest purchasing an antivirus program for internet security that includes a personal firewall for $30 to $50. Not only do you get great firewall protection but also malware security and additional tools like antiphishing, password managers and file encryption.
Related Product Reviews