Craftsman has earned a name in the power tool industry for making affordable, reliable and quality products. And the Craftsman 34120 electric chainsaw fits that bill perfectly. You can start using it within minutes of getting it out of the box. It's a good choice for small to moderately sized jobs. And while it didn't wow our testing crew, it didn't generate any complaints either.
The simplicity of this tool is the selling point. When we received our test model, all we had to do was fill the oil tank, plug it in and pull the trigger. It started right up and we began using it immediately. No assembly required, no mixing fuel and oil or pulling multiple times on a recoil cord – pure simplicity and functionality, making it an excellent choice for those who will only use it occasionally or don't require the power delivered by gas chainsaws.
This chainsaw has an 18-inch guide bar, which is the longest among all the tools in this category. Making it a good choice for larger projects and thick, tough wood. One of our tests involved cutting a 6x6-inch piece of lumber. As expected the gas models we reviewed made the quickest cut – always less than 10 seconds. The Craftsman 34120, gave them a run for their money, taking only 12 seconds to perform the same task. And while the cut wasn't as smooth or clean, it performed far better than the other corded and battery powered models.
Along with the nine other chainsaws in this category, we used the Craftsman 34120 to clean up an overgrown residential back yard. We felled medium sized trees easily and chopping up large branches into smaller bits was easy work. Our testing crew logged no complaints when using this tool.
What stands out most about this tool is how it doesn't stand out. The tool itself becomes essentially invisible in the face of the task before it. We were able to concentrate more on what we were doing, rather than the tool we were using to do it with. That's a testament to its functionality and utility.
A major advantage of this (and any other corded chainsaw) tool is that you don't have to worry about power. As long as you have a connection to an outlet, you're good to go. You don't have to worry about running out of gas or battery power – of course the tradeoff is that you're always tethered to a wall. But if you're primarily using it in a residential yard environment, that won't be a problem.
Summary
The Craftsman 34120 is unremarkable – and this is a good thing. It's a tool that does what it promises and does it well. It's a breeze to setup, use, clean and store. It handles basic chainsaw tasks easily and without hassle. Of course, it doesn't provide as much power as gas models, but if you're an occasional or casual user, that's a minor issue.
Need a better alternative?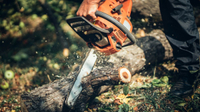 Top Ten Reviews has reviewed the Best Chainsaws of 2019 so that we're able to offer you the authoritative buying advice you expect.