The Craftsman 37744 is a self-propelled gas lawn mower that has all of the excellent features and functionality you need to keep your lawn well groomed, as well as several convenience features that make it easy to use and maintain. However, a few design oversights make it less convenient than the best gas lawn mowers in other areas.
You'll immediately find this Craftsman lawn mower easy to start and use. An electric starter powers the mower with one push of a button. When we were testing, this mower started immediately each time we used it, and with a good-sized 163cc engine and a 21-inch cutting blade, we found it is a powerful mower that cuts grass quickly.
While you can cover a lot of acreage in a short amount of time with this mower, the bag has a small capacity. The manufacturer lists the bag's capacity at 1.9 bushels or 2.4 cubic feet. While this is standard for a mower of this size, it requires you to empty the bag numerous times when mowing large lawns, which can become a big inconvenience. We also found that a significant amount of dust escapes this bag as you mow. Our top pick, the Honda HRX has a bag that can hold up to 2.5 bushels of clippings.
This mower has big wheels in the back and smaller ones in the front that improve the mobility. You can adjust the height of the lawn mower's wheels and the cutting height of the blades to customize the mower to better fit you and your lawn. There are six cutting positions, with the height of the blades ranging from 1.25 inches to 3.75 inches. This self-propelled lawn mower also has variable front-wheel drive that makes it easier to push and turn, which is helpful since there is no cushion on the handle.
When operating the lawn mower, we found that it has a high vibration level compared to other brands in our product lineup. Without a cushion on the handle, this can wear on your hands after a while. While this mower vibrates more than our top-rated lawn mowers, it runs more quietly than most of its competition. We measured the noise level of the lawn mower while it was running at 90 dB, which is noticeably quieter than the common 97 dB.
This gas lawn mower is very easy to clean and maintain. It has a port you can attach to a hose so you can clean out underneath the mower while you run the blade. This is an increasingly common feature in lawn mowers and it is a welcome convenience. This Craftsman mower also has Just Check and Add technology from Briggs & Stratton that saves you time by eliminating the need to change or drain oil from the engine. All you have to do is add oil when it is needed.
Craftsman offers a standard two-year warranty for this lawn mower. You can contact customer service via phone or email. The website includes online manuals you can reference for troubleshooting, as well as a service center locator so you can find where to take your mower for repairs.
The Craftsman 37744 reduces the hassle of mowing grass with its strong performance and some convenience features. It starts up quickly and cuts grass effectively with a generous 21-inch cutting deck, and when you're done mowing, you can attach your garden hose to the wash port to clean out the clippings. Overall, this is a good mower that takes care of your lawn without major headaches, though the shaky, uncushioned handle and small bag capacity are rather inconvenient.
Need a better alternative?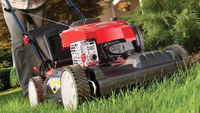 Top Ten Reviews has reviewed the Best Gas Lawnmowers 2019 so that we're able to offer you the authoritative buying advice you expect.