If you want to send someone a special Holiday gift this year, why not try a photo book? The best photo books make perfect presents, as they're a collection of personal images, all collected and printed in a single album, then delivered direct to whatever address you choose. What's more, they don't have to cost much either - especially as one of our top-rated sites, Mixbook, is giving 55% off everything until November 29 with the promo code BFGIFTS, or if you miss that, 50% off until the end of 2020 with the discount code REVHLDY20
Deals on photo books can save you a stack of money - and with half-off at Mixbook you can put together a fantastic album of memories for less than 50 or even 30 bucks. They're quality products, and while some will lack the charm of a home-made photo album, they're a fantastic way to give someone a personal gift. Especially now, when families are being kept apart by the coronavirus pandemic, it can mean a lot to someone to send over a photo book of the memories you've shared.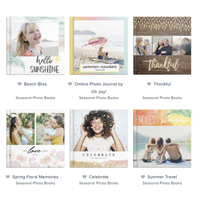 If you're looking to do more than just send a photo book via Mixbook, you can also get money-off photo cards too, which do make a nice companion to the albums. Simply enter the code REVHLDY21 at checkout between now and December 31, and you'll save on cards too. It's never too early to get your Holiday cards sent, especially with the massive strain on the USPS and other couriers this Fall.
There are likely to be other promotions appearing via Mixbook and rival photo services between now and the end of the year, and if something great comes along we will let you know about it. If you're planning to do more Holiday shopping, we also have a guide to the best Amazon Holiday Dash Deals, and a forward-looking guide at the best Black Friday USA deals for 2020.