Today is World Sleep Day, and that means it's the perfect time to invest in the right gear to help you achieve better quality sleep. Luckily, there's a fantastic deal going on at Purple: you'll get free sheets and a plush pillow with select mattresses. That's one of the best Purple mattress deals we've seen for a while.
Purple is featured in our guide to the best mattress online, so you know that whichever of Purple's mattresses you opt for, you're going to get a great deal. Purple ships direct to your door, and has impressive technology to boost your in-bed support and comfort. We've reviewed the Purple Mattress and think it's a great choice - there's no need to compromise between comfort and support.
Check out the current deal below, or take a look at our guide to the best Amazon Prime Day mattress and bedding deals for other offer from various sleep brands.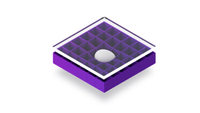 Purple's mattress technology makes it ideal for sleepers who run hot, which is why it features highly in our best cooling mattress guide, and for those who find their sleep is disturbed by pressure points in their current mattress.
Purple's patented Purple Grid technology also means that those who tend to sleep on their backs or sides will feel more comfortable. Unsure if Purple is for you? Don't worry - the mattress company offers a 100-night trial so you have ample time to test it out and decide if a Purple mattress is the one for you.
If Purple isn't quite the right fit, learn how to pick the right mattress for you, or check out the best Casper mattress deals and the best Saatva mattress discounts to save money on this super-popular brands. You may also want to check out our guide to the best pillows to find the ideal one for your sleep style.
Purple users love their mattresses: the company has over 20,500 reviews, and the vast majority of people give it a stellar 5 star review.
Here's how the deal works: buy a Purple Hybrid Premier or a Purple Hybrid, get free sheets and plush pillow. If you think the Purple Mattress is for you, you just get free sheets. Every option is a fantastic deal, so don't sleep on this Spring Sale!