GreatArrivals.com has a great selection of unique gift baskets, but the overall food quality is lower than average and our taste testers thought the selection of treats was weak.
We tested the Gourmet Sophisticate Gourmet Gift Basket from this company. With the same price point as all the baskets we tested, our testers thought that the selection was lacking. The basket didn't include any fruit and, in the words of one of our testers, the selection "seemed relatively narrow – not a lot of standouts."
After averaging the food ratings for all the products, this basket only received a 2.5/4, which resulted in a C- taste rating. This company offers over 175 baskets, more than many of the companies we tested like FTD and 1-800-Baskets. If you are looking for a kosher basket, this company has a wider selection than other companies, but no vegan baskets. If you're looking for unique baskets, though, this company has packages for many hobbyists, including gardeners, sports enthusiasts and baskets for spa lovers.
This basket arrived in fair shape, though one of the corners of the shipping box was crushed. Inside, the basket was only protected with butcher paper but nothing was damaged. We gave higher ratings to companies that shipped baskets with bubble wrap or foam packing materials because butcher paper is flimsy in comparison.
GreatArrivals only lets you pay for your baskets with a credit card or PayPal, which is convenient for some people but a hassle for those who prefer a different payment method. You can choose your shipping method at checkout, and this company offers overnight shipping options. You can ship to APO/FPO addresses and internationally, but you can't add any extras like chocolates or a stuffed animal to your order.
If you have questions about your order or problems with your basket, you can call, email or chat with service representatives. This matches the best contact methods of other companies.
The Gourmet Sophisticate Gourmet Gift Basket from GreatArrivals disappointed our testers in the selection and food quality. Though this company offers some unique baskets, the lack of quality food items led to this basket's low score. We recommend purchasing a basket from one of the top companies in our review instead.
Need a better alternative?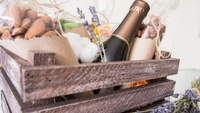 Top Ten Reviews has reviewed the Best Gift Baskets of 2019 so that we're able to offer you the authoritative buying advice you expect.