Ninja air fryers are perhaps one of the most recognized household appliances, and they needn't cost a lot either. This is especially true now that we have a bunch of Black Friday air fryer deals going 'live'.
I've put together this mini round-up of three great deals to check out, all under $100. Perfect for if you're looking to treat someone - or yourself - to a handy-dandy new air fryer during the holidays. The cheapest of the lot is this two-quart mini Ninja air fryer at just $69.99 on Amazon.
While there are other Ninja air fryer deals to be found across all your favorite big name retailers, our list features three great deals that we've found on Amazon for you to take a look at.
Black Friday Ninja air fryer deals - Quick links
3 affordable Ninja air fryer deals under $100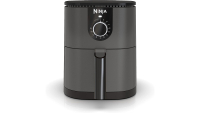 Ninja AF080 Mini Air Fryer, 2 Quarts Capacity, Compact, Nonstick, with Quick Set Timer | Was $79.99, now $69.99 on Amazon (save $10)
Although it's only a saving of $10 (13%) - this is by far the cheapest Ninja model I've seen for a while. A quality product, perfect for smaller kitchens, dorm rooms, etc.
Price check: Walmart $70.99
Alternative pick: Ninja 4QT Air Fryer, Black, AF100WM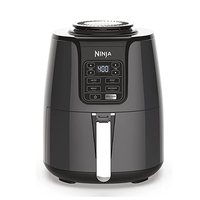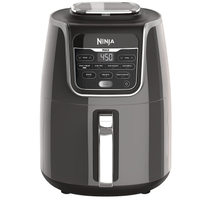 What makes a good air fryer deal?
The air fryer market has become totally saturated in the last few years, and with that, the price range has become really broad. Some of the cheapest air fryers on Amazon are as low as $30, while you can find models with multiple functions that cost over $200. With that, it is easy to see a low price and get lured in to a bad deal - remember, sometimes you get what you pay for! So, we have a few tips to make sure you invest well.
Start by filtering down to four stars or more if you search directly on a retailer. Also look for trusted brands like Instant, Dreo, Cuisinart and Ninja, that have a good reputation in the market.
Don't forget to check our reviews when you find one you like. And if it seems more expensive than the others, check out what other functions it has that could be pushing the price up. Don't forget that air fryers come in a range of sizes, so if you want to save some money, don't overspend on a huge 10-quart model unless you see yourself using it for lots of family meals or large joints of meat.
As with all purchases, it's important to know if you're making the right decision, so feel free to check out our guide on how to choose an air fryer, to make sure you're getting the right air fryer for your kitchen. And while you're at it, there are dozens of early Black Friday appliance deals on all things home and garden that we know you'll find interesting.