If you're thinking about replacing your oven or range, now is the time to do it. Over at Best Buy prices are dropping on electric ranges, built-in ovens, and double ovens - all as part of the Best Buy Presidents' Day sale. We've sorted through the deals and have found that the best ones are on Frigidaire ovens, with built-in air frying technology. You can save $320 on the Frigidaire 5.4 cu ft freestanding range with air fry, making it $1299 for a limited time. And if you want to go bigger, our pick of the double ovens is the Frigidaire 30" electric oven with air fry technology, which is $550 less at $2149.
Yes, replacing your oven is expensive, but these deals make them way better value. What's more, the built-in air fry technology in both units mean you can cook food like fries and breaded chicken far more quickly and healthily. You normally need to turn to a specialized device like a Ninja Foodi for air frying, but these ovens have the technology built into them.
We rate the Frigidaire models highly, and one of its air fry ovens makes our list of the best ovens for 2021. In terms of electric wall double ovens, the Frigidaire models are also very highly rated.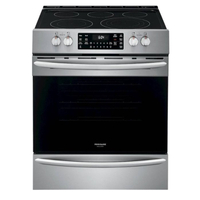 Frigidaire FGEH3047VF | Freestanding electric oven: was $1619 now $1299 (save $320)
Save yourself a good chunk on this freestanding oven with air fry technology. It's electric powered, has four ranges on the top surface, and is available for installation in some areas of the US. It comes in smudge-proof stainless steel, and fits a regular 30" kitchen space.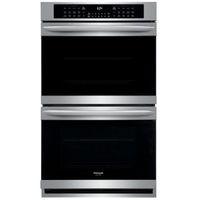 Frigidaire FGET3069UF | Built-in double oven: was $2699 now $2149 (save $550)
This electric double oven also has air fry technology, and it fits a 30" width gap in your kitchen counter. It's 50" high and and has no range on the top (obviously). This one comes in stainless steel and is available for installation.
These ovens are suitable for different types of home, and the key difference is that the freestanding oven has a range on top, meaning it's an all-in-one solution for cooking - ideal if you have a smaller or galley kitchen. While both models fit a standard 30" wide recess, the freestanding oven is much shorter.
Frigidaire offers a one year warranty on both oven, which covers parts and labor, which is fairly standard among appliances. Best Buy will offer you extended warranties, but it's really up to you whether or not you take these. Given the relative simplicity of each appliance (there are no smart features here) we'd suggest you'd be unlucky to have these break down any time soon. Frigidaire models are pretty reliable.
If you want to check out the entire range (sorry) of savings then check out all Best Buy's oven and range Presidents Day deals. If you're getting the double oven and want a shiny new range to go alongside it, we have a guide to the best electric ranges, and the best induction cooktops.