Air fryer deals are cooking up a storm this weekend. The NuWave Brio 7.25-Quart Air Fryer is now reduced to $79.99 at Kohl's. Taking the top spot in our guide to the best air fryers, NuWave Brio has a fantastic reputation and for this price, you don't want to miss out.
One of this year's Best Black Friday USA deals, the NuWave Brio 7.25-Quart Air Fryer is reduced to $99.99 down from its original price of $129.99, but to save you even more money, Kohl's has a site-wide saving code of 20% off when you get to the checkout. That means you can grab this top-rated air fryer for $79.99 excluding taxes.
To take advantage of the Kohl's Black Friday discount, you can add the code YOUGET20 when you go to checkout. What's even better is that the code applies across the site and there's free delivery when you spend over $75. Bargain!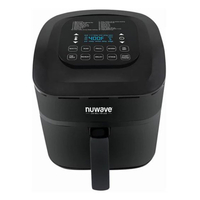 NuWave Brio 7.25-Quart Air Fryer: $129.99 now $79.99 at Kohl's
Get this top-rated air fryer for $50 with the Kohl's early Cyber Monday deals. There's a roomy 7.25-quart capacity and six programs to choose from. A healthier way to prepare meals with very little effort, you can cook everything from frozen fries to meats, desserts, and more in this clever air fryer.
The NuWave Brio air fryer deal is definitely one worth grabbing. With savings of $50, this air fryer can save you time, money, and valuable oven space if you're cooking for a crowd. We gave the slightly smaller 6-quart NuWave Brio 4.5 stars out of five in our NuWave Brio 37001 6-Quart Air Fryer review because of its fantastic performance and just how versatile this handy appliance really is.
You can control the wattage and power of this air fryer with just a press of a button, and the temperature can be adjusted in five-degree increments for the most accurate cooking. If you're hosting this holiday season, the NuWave Brio can make delightfully crispy roast potatoes but can also cook fruit and other sweet treats for dessert.
Even if you're just cooking up a mid-week meal, the NuWave Brio has a handy basket divider and racks so that you can cook a few things at once. The best part, though, is that you won't need to use any oil (or very little) in order to make such delicious meals, a much healthier alternative to deep frying.
More great air fryer deals
Still want to grab a bargain? We've rounded up the best Black Friday USA deals for 2020 - which includes early price-cuts from around the web.