The Nexgrill Deluxe 2 Burner Propane Gas Grill is your way in to outdoor cooking. It sits comfortably in the entry-level range of gas barbecues that'll fit small spaces in the backyard or patio perfectly to grill a selection of meats and vegetable treats all at the same time.
Along with it's generous discount which is 'live' a few days after the launch Walmart Shark Day deals, what makes this Nexgrill Deluxe 2 Burner Propane Gas Grill a decent find is that it's not discounted down to this price as part of Amazon Prime Day deals (aka Big Deal Days). This means that it's actually cheaper to buy from Walmart, and you don't need to be a Prime member.
I do like some (healthy) competition, and to save a decent amount of money. The Nexgrill Deluxe 2 Burner Propane Gas Grill typically retails for $399 but for a limited time, you can now get it for a much more affordable $239. That's about the same price you would expect to pay for a tabletop grill. If you'd prefer to shy away from the Christmas-related holiday sales, then this could be one of the best deals you find for the outdoors - and one that you don't need to be a member for in order to buy.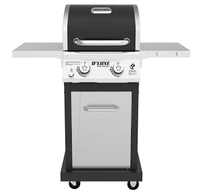 Nexgrill Deluxe 2 Burner Propane Gas Grill: Key features
What we look for on gas grills are the BTU's. It recommended that anything between 80 - 100 BTU's per square inch is good, and the Nexgrill Deluxe 2 Burner Propane Gas Grill has 28,000 across 401.1sq ft of cooking space which is fantastic. The cooking space is split across two levels so you could be cooking your corn on the top shelf and burgers on the lower to avoid too much flavor fusion and / or to control the cooking speeds.
The two angled flame tamers will distribute heat evenly, prevent flare-ups, and vaporize food drippings into smoky flavor infusions across the high quality, matte finished grates that offer high heat-retention and produce the sear marks that we all love.
When it's time to stow away the Nexgrill Deluxe 2 Burner Propane Gas Grill, the two side tables can be collapsed and the four wheels can help to manouvre it into a sheltered location. If you would like shield your new grill from the outdoor elements long-term then the Unicook Heavy Duty Small Grill Cover for $18.99 from Walmart would be worth adding to your basket, too.
BBQ Grill Deals
As we transition into fall, now is a surprisingly good time to buy one of the best gas grills because they are heavily discounted and you'll still have chance to use it before the year is out. You may even find that you want to try cooking the Turkey for Thanks Giving on your new gas grill, so you'll have plenty of time to try it out between now and then too.
And, as this deal proves, you don't have to wait for the best Black Friday deals to save big on a gas grill. Other deals on gas grills we've spotted that are worth checking out is this Coleman Portable Sportster 1-Burner Propane Grill for $129 on Walmart and this Char-Broil Classic Series Convective 3-Burner with Side Burner Propane Gas Stainless Steel Grill on Amazon for $199.58. Both are under $200 and offer the flexibility to cook on gas whilst your either camping or staying out in the backyard.