If you've been hankering after a high-spec washer but balked at the high-spec price and can't or don't want to wait for the Black Friday washing machine deals, this Best Buy deal could be just what you need: the Samsung ActiveWave high-efficiency smart top load washer is down from $999.99 to just $649.99, a saving of $350. That's for the black model: if you prefer your white goods to be white, that model is discounted too with $250 off, taking it down to the same $649.99.
This appears to be a deal set up by Samsung rather than by Best Buy, because as you'll see from our price check we've found very similar prices at other big-name retailers. That's worth knowing because it means you've got options when it comes to where to buy from – handy if the delivery slot you want isn't available from a particular retailer or if you want to compare finance options.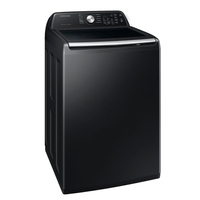 Samsung WA46CG3505AV 4.6 cu. ft. high-efficiency Smart Top Load Washer: was $999.99, now $649.99: save $350 at Best Buy
As you'd expect from Samsung this high capacity, high-efficiency top load washer is packed with smart technology including Wi-Fi connectivity and a specially designed agitator that reduces noise and vibration while caring for your clothes. It even includes a built-in faucet so you can scrub really dirty stuff before letting the washer take care of the rest.
Price check: Home Depot $648.00 | Lowes $648.00
Alternative: Samsung WA49B5105AV
Samsung High-Efficiency top load washer: key features
The secret sauce in this clever washer is Samsung's ActiveWave Agitator, which is the bit of the washer that makes the cleaning magic happen by agitating the clothes during the wash cycles. In lesser washers that can also be the noisy bit, but not here: Samsung has developed ActiveWave to deliver great wash results just as quickly but a lot more quietly.
ActiveWave is designed to massively reduce the noise and vibration that plague some rival top-loaders, and it also reduces the likelihood of your clothes getting tangled. It does that without compromising on cleaning performance, and as you'd expect from a Samsung it's packed with clever features.
This model is also compatible with Samsung's SmartThings smart home system, enabling you to control and monitor it from your phone and from compatible smart home devices. The same Wi-Fi connectivity that delivers that convenience can also be used to troubleshoot any issues you might encounter with tough stains.
That's not all. This washer has a built-in water faucet that makes it easy to pre-treat heavily soiled clothes at the press of a button, a feature that's useful for parents, sports players and anyone whose work or leisure sends them home again covered in dust or dirt. That means you can scrub items right there in your washer, with no need to have a laundry room sink – so it saves space as well as time.
Factor in 10 preset washing cycles, an Extra High Water Level to ensure that all of your items get a serious soaking and a diamond drum interior that reduces the risk of your more delicate items getting snagged or damaged and you've got a laundry powerhouse at a big discount. And you know what you're getting with Samsung: clear controls, excellent build quality and consistently good cleaning.
Top loading washer deals
If you're not familiar with top loading washing machines, they're very convenient and useful; our guide to the best top load washers explains why, and also shows you the key features to look for. And if this specific Samsung isn't quite right for you, don't worry: we expect to see more Samsungs among the best Black Friday deals.
This isn't the only deal you'll find on top loading washers. Best Buy also has $160 off GE's 4.5 cu. ft model in white, and it has $180 off an even bigger Samsung taking it down from $809.99 to just $629.99 – and there's free installation on that one. If you need more capacity, there's an excellent deal on a 5.5 cu. ft Samsung: it was $999.99 but it's currently down $200 to just $799.99.