Gas grill deals are smoking hot this Thanksgiving, and even though you're probably thinking of turkey instead of barbecues, this is one of the brilliant Black Friday USA Deals. Today, you can save 33% on the Nexgrill at Home Depot - that's $100 off the list price, and it brings this stylish gas grill to under $200.
Looking the part, the Nexgrill 4-Burner Gas Grill rivals some of the best gas grills around, and this barbecue grill has ample cooking space for the whole family to enjoy tasty food alfresco. While it might not be outdoor grilling season at the moment, now is a great time to cash in on the best gas grill deals since retailers slash their prices ready for a new season.
The Nexgrill 4-Burner has a massive amount of cooking power, providing 60,000 BTU (British Thermal Units) out of the four burners combined. That's more power than you can expect from other leading gas grills! An electric igniter saves all the effort of trying to get this grill going too.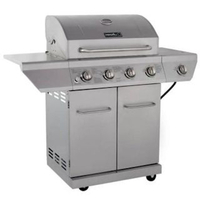 Nexgrill 4-Burner Gas Grill in Stainless Steel: $299 now $199 at Home Depot
There's $100 off this huge gas grill today at Home Depot. With a saving of 33%, you'll be king or queen of the grill as this model has some of the most powerful burners we've seen, and it has an additional side burner too. Save now and have a stylish new grill ready for next spring.
This gas grill deal from Nexgrill means you can be the host with the most next spring and summer. The grill is finished in stainless steel and its cooking grids have 7mm cross bars. Underneath the cooking grids, a clever Even Heat system works to ensure whatever you place on your grill, is cooked evenly - something not all gas grills offer.
Well designed for plenty of use, the Nexgrill includes a temperature gauge, and its catch tray comes off with ease so that you can give it a clean between uses. When you're done grilling but not quite ready to serve, this Nexgrill has a warming rack where you can pile up your burgers until you want to dish up.
When it comes to moving your gas grill or putting it away for the winter, the Nexgrill has all-weather wheels and casters which can be locked into place too. It's rare to see a gas grill of this size reduced under $200, so be quick if you want to save on this gas grill deal.
More great gas grill deals
Save on other items too with our round up the best Black Friday USA deals for 2020. Alternatively, if you're looking for massive savings on home appliances, don't miss the best Black Friday Refrigerator Deals or the top Black Friday Washing Machine Deals.