If you're looking for a good mattress deal this Sleep Week, we've got a cushy offer for you. Right now this Avocado mattress deal saves you $200 across the entire range of organic latex foam mattresses. All you need to do is head over to Avocado, choose the right size for your bed, and enter the code: SLEEPWEEK when you check out. The $200 should be instantly subtracted from your total cost. This promotion runs from March 12 through March 24.
Avocado mattresses are eye-wateringly expensive, so the value of this discount really does depend on the size of bed you own. Just got a Twin bed? You're bringing the price down from $1199 to $999. Not bad. If you're buying a King, though, the price drops from $2399 to $2199, which isn't a massive percentage discount.
Avocado sits among our best mattress online guide, thanks to its Avocado Green range. The Latex Foam mattresses are very much at the luxury end of the scale, using nine inches of organic, toxin-free foam instead of springs. This makes the mattress extremely comfortable, and it'll wrap itself round your body shape perfectly. The absence of springs make it quiet too, so you're guaranteed a great night of sleep (unless you're worried about how much you spent on the mattress itself).
Credit is available from Affirm, so you can get these mattresses at 0% finance, which is great if you don't have thousands of dollars to hand.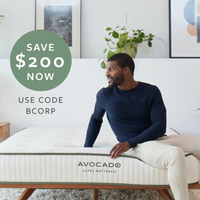 Save $200 on all Avocado Latex Mattresses
These are all organic, latex foam mattresses, and they're incredibly comfortable. Right now you can save $200 across all sizes when you add the code: SLEEPWEEK at checkout
In terms of other features, this Latex mattress comes with bounce-dampening layers, to ruin the fun of any kids who may want to jump on it (and, you know, prevent you from bouncing off it), and four handles to help you flip it whenever you need to. There are three zones to the mattress, which means it won't just squish down, but will retain firmness where it needs to, and it'll prevent you from rolling off the side of it.
Avocado mattresses are fully featured, and come with all the extras you'd expect for such a premium product. You get a 25 year guarantee (although advice is that you change your mattress every seven to eight years), free shipping on all orders, and a one year free trial, which means you can technically send it back if you're not happy after a year. What's more, Avocado mattresses are made in the USA, so you're supporting a domestic business.
If you need something more specialized, we have a guide to the best cooling mattresses for hot sleepers. And if you need more bedding, we also have a guide to the best pillows, to make your sleep even better.