Black Friday is the best time of year to upgrade your at-home coffee station. With the big brands cutting the prices off some of their best machines, it can be smart to wait until the holiday season to grab a new coffee maker for much less than you would any other time.
And with all the Black Friday coffee maker deals now popping up, one of the best we've seen is the $200 discount on De'Longhi's La Specialista Arte Evo Espresso Machine at Amazon. It's a comprehensive setup to brewing coffee perfectly, complete with the grinder, tamping kit and steam wand.
This is one of the many stand-out Black Friday appliance deals we've seen this year. Read ahead for our rundown of the espresso machine's key features.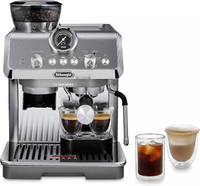 De'Longhi La Specialista Arte Evo Espresso Machine: Key features
De'Longhi espresso machines are designed for precision. The La Specialista Arte Evo equips you with all the tools needed for a complete home-brewing set up, with enough settings to be able to customise each coffee to your taste.
The built-in burr grinder has eight precise settings to deliver consistent coffee doses every time you make espressos. The machine also has a built-in steam wand so you can turn those espressos into milkier cups like flat whites and cappuccinos - and you can even try your hand at latte art.
There are four beverage settings: espresso, Americano, hot water, and cold brew. The coffee maker has cold extraction technology, so that it can pour a full-bodied cold brew in under 5 minutes.
To get the most out of your experience, the machine comes with a barista kit that includes a milk jug, tamping kit and single wall baskets. This is essential to perfecting your coffee skills, with the tamper making sure the water is appropriately distributed through the coffee grounds.
On top of all this, the espresso machine uses a 15-bar Italian pump for optimal pressure, with active temperature control that ensures a consistent water temperature throughout the brewing process.
This is a coffee machine for the true enthusiasts, with enough features to play around with to really perfect your ideal coffee. There's a reason De'Longhi espresso machines can be so expensive, so a $200 discount should make this an easy-enough decision.
Coffee maker deals
It's an exciting feeling seeing some of the best coffee makers on offer, especially with how much the most premium machines can set you back.
For simpler alternatives, feel free to check out our roundup of the best Keurig Black Friday deals where we're already seeing a lot of choices on offer.