DreamCloud is having a big Summer Sleep-In Sale, and it's ideal for hot sleepers wanting to upgrade their bed to something cooler (and comfier). That's because DreamCloud's latest deal offers savings of up to $599 on any of its cooling hybrid mattress - the savings consist of a $200 discount, plus up to $399 worth of free accessories, including bed sheets.
The American sleep brand is also offering discounts of up to $300 off bed bases, including an Adjustable Base for zero gravity relaxation. This position is ideal for easing aches and pains, as it reduces pressure placed on your joints.
So if you've been scouring our best mattress online guide for something to improve your shut-eye, the DreamCloud should definitely be on your shortlist. Using the latest sleep tech, this cooling hybrid is designed to help you feel rested and raring to go. Better still, it comes on a huge 365-night trial, with free shipping and returns, and it's covered by a lifetime warranty.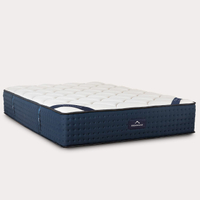 DreamCloud Mattress | Was from $1,198 | Now from $699
For a limited time you can save $200 off any size DreamCloud Hybrid Mattress. To make the deal even sweeter, you'll also get up to $399 worth of accessories, including a mattress protector, sheets and a cooling pillow.
Waking up after a sound night's sleep is one of the best feelings in the world. It can do wonders for your mood and set you up for the day ahead. Sadly, there are a lot of things that can prevent you from getting the rest you need, from feeling too hot to lacking sufficient support for your body.
DreamCloud has been working hard to solve these issues, and has engineered a mattress to keep you cool and cradled throughout the night. This hybrid cooling mattress features multiple comfort, cooling and support layers that work together to provide a snug yet breathable bed.
Quilted foam and cashmere bring the surface softness, while individually wrapped coils and gel memory foam reduce heat retention. Both adapt to your body for the maximum amount of support and body contouring too.
Thanks to this latest deal, prices now start from $699, and you'll get a free breathable pillow for sleeping with your purchase, plus a mattress protector and bed sheets. For an extra $400, you can upgrade to the Premier version, which adds in a Premier Topper Comfort for extra support and comfort. Think of it as a very plush bed topper and then some.
Reviews of the DreamCloud Mattress are positive, generating a collective score of 4.7 out of 5 stars based on nearly 5,000 ratings. But if you're still unsure, you could always take advantage of the company's 365-night sleep trial, which enables you to try the mattress for a year with no commitment to purchase.
More great savings on mattresses
For further savings, see our round-ups of the latest Saatva mattress discount and sales, the best Casper mattress deals, and this month's Purple mattress deals and sales.