USA-made GhostBed mattresses are popular among people who need better neck and back support when lying down, and today you can buy one for less thanks to a 25% off discount on the four-strong GhostBed range. Prices now start from $521 for the award-winning GhostBed Classic, and while this isn't the biggest discount we've seen for this brand (that happened on Black Friday), it's a decent saving if you've decided to buy the Classic anyway. You also get two free pillows worth $170 with your purchase, putting you on track this Sleep Awareness Week for a comfier night's rest. Be quick though, as the deal ends 18 March.
Like many of the best mattress online companies, GhostBed offers a generous sleep trial - here it's 101 nights (over three months), so you can give your new mattress a good test run to ensure it's suited to your sleep style and posture needs. GhostBed mattresses are also covered by a 20-25 year warranty, and are shipped for free, within 24 hours, if you live in the States. Returns are also free (always read the returns policy before buying).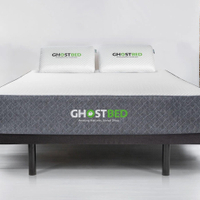 The GhostBed Mattress | Was from $645 | Now from $521
Looking for a medium-firm mattress? Then give the breathable GhostBed Classic a shot. It's soft enough to relieve pressure on your back, neck and hips, but not so firm that you'll be uncomfortable lying on it.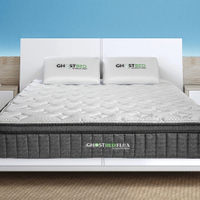 GhostBed Flex | Was from $1,395 | Now from $1,046
A cracking mattress for couples with different sleep preferences, this hybrid sports a plush, quilted cover and deep comfort layers. Supportive coils add bounce where needed, while the addition of gel memory foam ensures your body is cradled throughout sleep.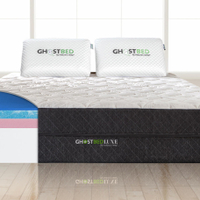 GhostBed Luxe | Was from $1,495 | Now from $1,121
Feeling hot? Then cool down on the Luxe. GhostBed reckons this is their best attempt yet at a mattress for hot sleepers, and have designed it with a cool-touch cover. It's a feast of gel memory foam and body contouring GhostBounce foam for support and comfort.
There are four GhostBed mattresses to pick from, and while it's tempting to go for the cheapest, we'd actually point you in the direction of the GhostBed Flex first. This hybrid is designed to support a range of sleep styles, and it also has cooling mattress properties, making it a good choice for hot sleepers. Like many other hybrids, the Flex lives in that sweet spot of good value for money - it offers a lot of sleep tech, enhanced comfort and good spinal alignment, but it won't drain your bank account either.
The fourth GhostBed is the flagship GhostBed 3D Matrix, now from $1,538 (was from $2,050). Another hybrid, it offers three-dimensional comfort and cooling, with a thermal conductive gel polymer layer that adjusts to your body shape and temperature. This is cutting-edge stuff, and considering it isn't a whole lot more expensive than the other GhostBed mattresses, it's definitely worth a look if you suffer from heat disturbances or pain during sleep.
Don't forget that with each GhostBed mattress purchase, you'll receive two free luxury pillows for sleeping. These are worth $170, adding more value to your overall deal here.
More great mattress deals this Sleep Week
Unsure whether GhostBed is right for you? Then take a look at our roundups of the latest Purple mattress deals. If you want luxury for less, try the best Saatva mattress discounts.