Here's your chance to get an iRobot Roomba vacuum cleaner at a whopping 38% discount as part of the Amazon Prime Day 2020 deals that are now flowing thick and fast. In fact, there are two iRobot Roomba vacuum cleaners to tickle your deals fancy, start with the popular iRobot Roomba 692, now on sale for just $199.99 at Amazon, saving you $120.
This deal alone is bound to go fast, as iRobot is renowned for making some of the best robot vacuums around. We've even got a guide dedicated to the best iRobot Roomba vacuums because this type of robot vacuum comes up time and time again as a hit with users.
The second iRobot Roomba vacuum deal covers the iRobot Roomba 981 on sale for $399.99 at Amazon - that's a $200 price cut! Smart-enabled, the iRobot Roomba 981 will make light work of cleaning your home as it can take on carpets, hardwood floors, and pet hair too.
iRobot Roomba 692: Was $319.99 | Now $199.99 at Amazon
Save on this iRobot vacuum with a price that's lower than many leading vacuums - and the best bit is that you won't even need to vacuum yourself. Compatible with voice assistant and with a battery life of 90 minutes, this impressive robot vacuum is a great deal.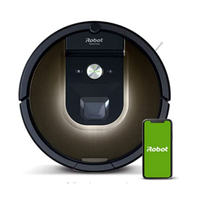 iRobot 981: Was $599.99 | Now just $399.99 at Amazon
There's $200 off this impressive iRobot Roomba vacuum. This clever little machine will take the hassle out of cleaning for you and it works with Amazon Alexa too! Its rubber brushes tackle stubborn dust and pet hairs so that your home is clean in no time.
Unlike one of the best vacuum cleaners for home, robot vacuums take the effort right out of vacuuming your home. These smart devices work their way around your home using smart mapping, with sensors that prevent the robot vacuum from bashing into your furniture but allowing the machine to get close enough to baseboards for a thorough clean.
Thanks to voice assistance, these robot vacuums can get to work from just the sound of your voice and you can set a schedule and cleaning program that suits your needs. iRobot vacuums also automatically adjust their height when they come up against a rug or go from hardwood to carpeted floors.
Once your iRobot vacuum is running low on battery, the machine will automatically return to its charging station where it'll stay until it has enough battery to continue cleaning. With all these great features, you won't normally ever find an iRobot vacuum cleaner for under $200, so make the most of these brilliant Prime Day savings.
Want to save on Amazon devices?
As well as fantastic savings on iRobot Roomba vacuums this Prime Day, Amazon is also slashing prices on its own devices which you can make the most of here…