Nectar has launched its biggest ever sale and with recent findings suggesting that getting a good night's sleep could really benefit your health, there's never been a better time to invest in a high-quality mattress. Nectar Mattress (opens in new tab) places highly among our picks for the best mattress online (opens in new tab) brands, and today you can get an even better deal.
When you buy any mattress from Nectar, you'll receive $399 worth of accessories (opens in new tab) including a free mattress protector worth $99, free sheets set worth $150 and, free premium pillows worth $150. That's a great discount. For other great offers, take a look at our guide to the best Amazon Prime Day mattress and bedding deals (opens in new tab).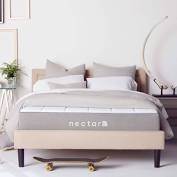 (opens in new tab)
Nectar mattress: Get $399 worth of FREE accessories with every mattress (opens in new tab)
Save $399 - All Nectar mattresses come with $399 worth of fantastic accessories for today only! Including a mattress protector, sheets and pillow, this fantastic deal is not to be missed. The protector will make your mattress last even longer.

Nectar offers top-of-the-range temperature regulation, and lets you test your new mattress for a massive 365 days - that's a whole year to make sure you love it, with the option to return it for free. There's also the unique Nectar 'Forever' warranty, which will keep you covered for well over ten years.
Nectar's mattresses also feature the Tencel Cooling Cover which is designed to make the mattress more breathable, as is the case with many models in our best cooling mattress (opens in new tab) guide. Layers of gel memory foam are also included in the mattress to help it circulate air and fit around your body better.
At a massive saving that won't be around for long, it's absolutely worth snapping up this great-value deal for even better value than usual. What's not to love?
There are other great online mattress brands to check out too, and we have rounded-up the best Casper mattress deals (opens in new tab), the best Saatva mattress discounts (opens in new tab), and the best Purple mattress deals (opens in new tab) to help you save when buying a new mattress. For more sleep content, take a look at our guide to the best sunrise alarm clocks (opens in new tab) and how they could help you wake more naturally.
---